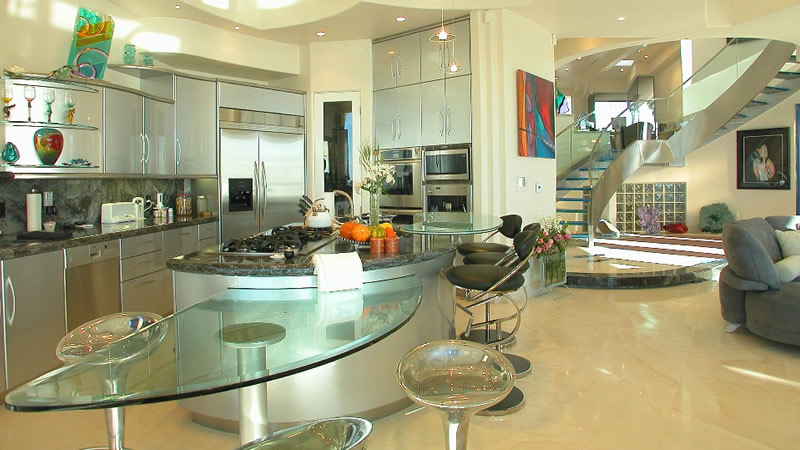 Audio Impact Wins Home of the Year 2014 from Electronic House Magazine
Audio Impact won Home of the Year again, making 4 wins total from Electronic House Magazine. This year's winning system is an amazing Mission Beach boardwalk home with spectacular custom lighting, made simple by our expert team of technicians. Our goal is to create systems that complement lifestyles. For the owners of this beachfront estate, their goal was to illuminate the artistic details of their home, while keeping control simple, yet still fully customizable.
Using Crestron controllers, we created lighting scenes to control everything from the individual fixtures, to a whole scene, to the whole home. Incorporated into the controls were also the entertainment systems, security cameras, and climate controls. Every entertainment system is centrally controlled, showing minimal equipment in the living areas of the home. The home features 16 discrete zones of music, including outdoor rock speakers. The owners can control audio in each zone or the entire home via their mobile devices with Apple's AirPlay. Sitting on the patio enjoying the view, they can play music, change lighting scenes, view their security cameras, open and close shades, or change temperature settings without getting up from their ultimate relaxing beach lifestyle.
This isn't the first or last win for Audio Impact. We are working on amazing systems for clients throughout San Diego. What makes our approach truly unique is our understanding of how an automated lifestyle should function for our clients. We take the time to discover what parts of their home are most meaningful to them and offer ideas to enhance their enjoyment of those areas. From customers who want to create a movie theater experience in their homes with hassle free controls, to customers who want ambient lighting and whole home audio, we turn those wants into craftsman quality results.
We are proud of our designs and the enjoyment our clients enjoy, day after day, with their new smart lifestyles. Below are our current and past awards as featured in Electronic House Magazine:

Audio Impact Wins 2014 Home of The Year Award from Electronic House Magazine for Home Automation

Audio Impact Wins 2012 Home of The Year Award from Electronic House Magazine for Home Theater

Audio Impact Wins 2011 Home of The Year Award from Electronic House Magazine for Outdoor System

Audio Impact Wins 2010 Home of The Year Award from Electronic House Magazine for Home Automation
Back to Portfolio